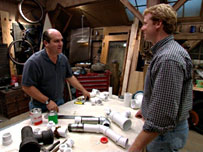 Original Air Date: Week of February 5
Landscape contractor Roger Cook shows a homeowner how to protect his ornamental shrubs from the ravages of hungry deer. Back in the loft, plumbing and heating expert Richard Trethewey answers a viewer's question about PVC pipe connections. Then Roger, Richard, general contractor Tom Silva, and host Kevin O'Connor try to identify unfamiliar objects in the "What is it?" segment. Afterwards, Tom heads out to help the Ryan family fix a shower door that won't close properly.


Deterring Deer
Roger showed the homeowner a range of options designed to deter deer from eating shrubs. Some homeowners have found that placing human hair or fragrant deodorant soap near the plants creates an unpleasant odor that discourages deer. Roger demonstrated several other options, including plastic deer netting, a motion-activated sprinkler, and a chemical spray.
Where to Find It
Roger demonstrated a variety of products for deer control, including:
Deer and Bird netting manufactured by:
DuPont Garden Products
800-448-9835
"Scarecrow" motion-activated sprinkler manufactured by:
Contech Electronics, Inc.
800-767-8658
Deer-repellent spray from:
Holly Ridge Nursery
877-782-1270
For more information on controlling deer, contact the
Living with Wildlife program of the Massachusetts SPCA
.
PVC Pipe Connections
Richard answers a viewer's question about different PVC pipe connections and shows Kevin the transitions that can be made between PVC and other types of pipe, including galvanized steel and cast iron.
Where to Find It
The common PVC fittings that Richard discussed are available at most plumbing supply, hardware stores, and home centers.
What Is It?
Roger, Richard, Tom, and Kevin examined an unfamiliar object and tried to guess how it's used.
Where to Find It
Richard demonstrated a set of "Master Plumber" brand pipe plugs. They are used temporarily to prevent water from dripping into a fitting that will be soldered. They are available at some hardware stores and home centers and are manufactured by:
William H. Harvey Company
800-228-9681
Fixing a Sagging Shower Door
Tom visited the Ryan family to help them determine why their shower door wouldn't shut completely. He discovered that the metal frame that surrounded the glass door had sagged and was out of square. He loosened the corner brackets, gently tapped the frame back into the correct position, and re-tightened the hardware.
Where to Find It
Technical assistance and some materials for this project were provided by:
Banner Glass Shelmar
800-922-1759