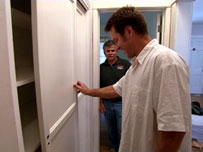 Original Air Date: Week of January 15
General contractor Tom Silva travels to Venice, California, to help two homeowners fix their stubborn sliding closet doors. Back at the loft, Tom, landscape contractor Roger Cook, plumbing and heating expert Richard Trethewey, and host Kevin O'Connor try to guess "What is it?" Richard shows Kevin the basics of electric radiant floor heat. Then Kevin and preservation specialist Sally Zimmerman use a new software package to help homeowners select historically appropriate exterior paint colors for their Queen Anne Victorian.


Repairing Sliding Closet Doors
The wooden doors were designed to slide back and forth on small metal sliders similar to thumbtacks. Tom replaced each of these metal sliders with a thin strip of hardwood that he made from a scrap piece of oak flooring. He then sanded the edges of the doors and the jamb and used a non-silicone-based lubricant on all the surfaces where wood rubbed against wood.
Where to Find It
Tom used basic hand tools such as a block plane, a handsaw, and wood glue to replace the sliders on the bottom of each door.
He then used "SlipIt" to lubricate the rabbet and dado grooves in the door and the wooden rail on the bottom of the jamb. This non-silicone lubricant is available as a paste, aerosol, and liquid and is manufactured by:
Slipit Industries, Inc.
845-691-8400
What Is It?
Roger, Richard, Tom, and Kevin examined an unfamiliar object and tried to guess how it's used.
Where to Find It
Kevin demonstrated a "PlugSlide" electrical cord connector. It is available from:
PlugSlide
770-889-2519
Tom demonstrated an ellipse marking tool (item no. 23685). It may be purchased from Rockler Woodworking, although it is only available at their retail stores:
Rockler Woodworking
800-279-4441
Electric Radiant Heat
Richard and Kevin discussed the features of electric radiant floor heat and several installation issues.
Where to Find It
The electric radiant heat mat that Richard displayed is available in many standard sizes and can also be ordered to fit custom layouts. It is manufactured by:
NuHeat
800-778-9276
Selecting Paint Colors
Kevin and preservation planner Sally Zimmerman helped the homeowners select an exterior paint color scheme for their 100-year-old Victorian house. They used a software package to select colors and show the homeowners what the final result might look like. Sally cautioned the homeowners that they should also test samples of the paint on the outside of the house before they begin to paint the house.
Where to Find It
Many communities have local historical commissions that may provide guidance on selecting exterior paint colors. Sally Zimmerman works for the Cambridge Historical Commission in Cambridge, Massachusetts:
Cambridge Historical Commission
617-349-4683
Sally and Kevin used Benjamin Moore's Personal Color Viewer software to represent some of the possible paint schemes. The software package costs $15 and may be downloaded from Benjamin Moore's Web site or purchased on a CD at most of their retail stores:
Benjamin Moore Paints
800-344-0400