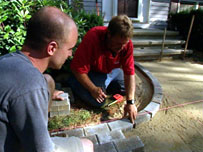 Original Air Date: Week of January 8
Landscape contractor Roger Cook helps a homeowner install a brick walkway at the front entrance to his house. Back in the loft, Roger, general contractor Tom Silva, plumbing and heating expert Richard Trethewey, and host Kevin O'Connor try to guess "What is it?" Then Tom shows Kevin different ways to cut a perfect miter in wood trim.


Installing a Walkway
Roger and the homeowner used concrete pavers similar to clay bricks for the new walkway. Together they excavated the existing site, laid down a three-inch base of "pack," measured the slope, added a layer of sand, laid the pavers in a "running bond" pattern, and installed plastic edging.
Where to Find It
Roger created the foundation for the walkway with a layer of pack (a mixture
¾
-inch crushed stone and stone dust) and another layer of sand. These materials were provided by:
Benevento Sand & Stone
978-658-4762
The plate compactor can be rented for about $70/day from:
Power Tool & Equipment Rental
781-933-1902
Roger used pre-cast concrete pavers for the surface of the walkway. The pavers cost about $2 per square foot and are available in several colors. They are manufactured by:
Ideal Concrete Block Company
978-692-3076
The plastic edging and spikes Roger used along the edge of walkway are manufactured by:
Pave Tech, Inc.
800-728-3832
What Is It?
Roger, Richard, Tom, and Kevin examined an unfamiliar object and tried to guess how it's used.
Where to Find It
Roger demonstrated a maple sugaring "spile." This device is simply a metal spout that is driven into a sugar maple tree to collect sap.
For more information on maple sugaring, contact:
Massachusetts Maple Producers Association
413-628-3912
To order maple sugaring supplies, contact:
Leader Evaporator Company
802-524-4966
Stayed tuned for an upcoming episode of "Ask This Old House" in which Roger demonstrates how to collect maple sap and turn it into delicious maple syrup.
Kevin demonstrated a "Sand Anchor" umbrella holder manufactured by:
J&S Innovators, Inc.
410-388-8313
Cutting Accurate Miters
Tom demonstrated how to cut a miter by using a hand miter box and back saw, a circular saw and a speed square, and a compound miter saw with a laser guide.