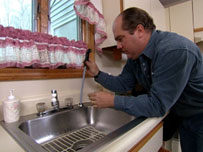 Original Air Date: Week of November 13, 2003
General contractor Tom Silva shows host Kevin O'Connor how to install interior window trim. Landscape contractor Roger Cook enlists the help of landscape architect Tom Wirth to help hide a group of unsightly utility boxes in front of a saltbox style house. Back in the loft, Roger, Kevin, Tom, and plumbing and heating expert Richard Trethewey try to guess "What is it?" On a House call, Richard shows homeowner Rick Thompson a simple fix for the broken kitchen spray hose that his mother, Jean, has had in her house for years.


Trimming a Window
Tom showed Kevin how to install interior window trim, including the stool, apron, and casing.
Where to Find It
Tom used standard 2
½
-inch colonial-style molding to trim the window. To make most of the cuts, he used a compound miter saw manufactured by:
Porter-Cable
He attached the trim using an "AirFree™ 41" battery-powered cordless finish nailer manufactured by:
Senco Products, Inc.
Camouflaging Utility Boxes
Roger and landscape architect Tom Wirth hid a group of unsightly utility boxes with native plants appropriate for the natural setting.
Where to Find It
Roger worked with landscape architect Tom Wirth to select the appropriate plantings.
Thomas Wirth Associates, Inc.
20 North Main Street
Sherborn, MA 01770
508-651-3643
Roger and Tom decided not to use typical shrubs like arborvitae, rhododendrons, and yews because these plants often attract deer. Instead they planted bayberry, viburnum, inkberry, and summersweet. The shrubs were planted in a raised bed composed of 60% topsoil and 40% compost and covered with bark mulch.
Many of the plants were provided by:
Gold Star Wholesale Nurseries
1265 Massachusetts Avenue
Lexington MA 02420-3825
800-631-3013
It is important to make sure that there are no underground hazards before digging. To identify the utility marking service for your area, contact:
Dig Safely
What Is It?
Back in the loft, Roger, Richard, Tom and Kevin examined an unfamiliar object and tried to guess how it's used.
Where to Find It
Tom demonstrated a "tape dolly" tape measure attachment.
Tape Dolly
Kitchen Faucet Spray Hose Repair
Richard showed homeowner Rick Thompson and his mother, Jean, how to replace a broken diverter on her kitchen faucet.
Where to Find It
Using only a pair of wide-mouth pliers and a nickel, Richard replaced a broken diverter valve on the homeowner's Delta brand faucet. The new valve was purchased at a local plumbing supply store for about five dollars.