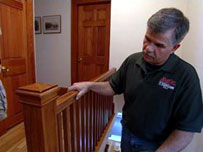 Original Air Date: Week of October 16, 2003
General contractor Tom Silva visits homeowner Christian Dierkes to help him secure a shaky newel post at the top of his stairway. Back in the loft, Tom, landscape contractor Roger Cook, plumbing and heating expert Richard Trethewey, and host Kevin O'Connor try to guess "What is it?" Then Richard makes a House call and finds a 50-year-old water heater that's dangerously close to the end of its life. Just in time, he replaces it with a new model designed to meet strict new national safety regulations.


Newel Renewal
Tom used three 12-inch "Speedbor" drill extensions (model #88601) manufactured by
Irwin Industrial Tools
Where to Find It
He used a coupling nut and a hanger bolt to screw the
¼
-inch threaded rod into the floor below. He cut the sill for the wooden washer using a
Porter-Cable
cordless router (model #9290) with a slot cutter bit.
What Is It?
Kevin, Tom, Roger, and Richard examined two unfamiliar objects and try to guess how they're used.
Where to Find It
Tom demonstrated a heavy duty nut splitter (model #27621) manufactured by:
Empire Level Manufacturing Corporation
We have been unable to determine the manufacturer of the window paint scraper. If you have any information about the scraper, please let us know. Thanks!
Replacing a Water Heater
Richard replaced a 50-year-old water heater with a new model designed to meet strict new national safety regulations.
Where to Find It
The homeowner had a 30-gallon Ruud monel water heater manufactured in 1953. The new model that Richard installed is designed to prevent the ignition of flammable vapors; it complies with the new safety standards developed by the American National Standards Institute (ANSI). The new 40-gallon water heater is manufactured by
Rheem
.
The water heater and cross-section display models were provided by:
Gourley Company
80 Felton Street
Waltham, MA 02453
781-894-9500
He also installed an electronic switching relay (model SR506-EXP) which allows the zone attached to the hot water tank to have priority over the other zones in the house. The switching relay is manufactured by:
Taco, Inc.