Ask This Old House
Show Descriptions
Showing results for
"Season 1 | Episode #122"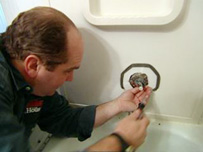 Original Air Date: Week of March 6, 2003
Plumbing and heating expert Richard Trethewey examines homeowner Kerry Goodwin's leaky shower tub faucet. Together, they purchase the replacement parts from a local plumbing supply company and repair the fixture. Then Richard, general contractor Tom Silva, landscape contractor Roger Cook, and host Steve Thomas examine an unfamiliar object and try to guess how it's used. Painting expert Jim Clark helps homeowners Kathleen and Kevin O'Connor remove painted wallpaper. And back in the loft, Tom and Steve demonstrate several hot glue guns, including a new cordless model.
A Leaky Tub Faucet
Salem Plumbing Supply
Where to Find It
What Is It?
Door knob cover (Model 23518) manufactured by:
Safety 1st
Removing Wallpaper
SteamMaster wallpaper steamer manufactured by:
Earlex
All-purpose sprayer (Model 030PFS) manufactured by:
Gilmour Group
Glue Guns
Arrow TR550 lever feed glue gun manufactured by:
Arrow
Titebond HiPURformer Advanced Bonding System manufactured by:
Franklin International
More On Ask This Old House...
Search Q & Archive
Project of the Week

How to Build a Trellis
Go
Your Old House
See 1000s of inspiring remodels from readers like you or show off your own remodel
Go

Calculate exactly how much material you need
Go

Meet Our Crew
Norm Abram: Master carpenter of This Old House since the series' 1979 premiere, and host of The New Yankee Workshop since its premiere a decade later, Norm Abram has inspired millions of homeowners to renovate and restore their homes. Seen across the … more
Copyright © 2013 Time Inc. All rights reserved. Reproduction in whole or in part without permission is prohibited.