Ask This Old House
Show Descriptions
Showing results for
"Season 1 | Episode #111"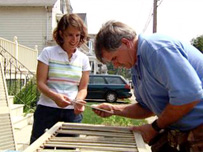 Original Air Date: Week of December 19, 2002
In the Ask This Old House loft, landscape contractor Roger Cook and garden tool expert Paul Schneider discuss different types of hand pruners. General contractor Tom Silva helps two homeowners repair and reinstall their broken shutters. Back in the loft, host Steve Thomas, Tom, Roger, and plumbing and heating expert Richard Trethewey examine two unfamiliar objects and try to guess how they're used. Richard shows Steve several models of instantaneous water heaters, then visit a local homeowner to examine his tankless hot water system.
Garden Pruners
Fiskars Brands, Inc.
Corona Clipper
1540 East Sixth Street
Corona, California 92879
800-234-2547
Saving the Shutters
PVC shutter manufactured by:
jlshutters.com
Wood shutter available from:
Brosco
What Is It?
Can-Gun spray paint trigger manufactured by:
Can Gun 1
Putty Chaser" (Model PR-9000) manufactured by:
Prazi USA
A Tankless Job
Bosch Aquastar Model 125HX available from:
Takagi TK2 available from:
Low Energy Systems, Inc.
2916 South Fox Street
Englewood, CO 80110
800-873-3507
More On Ask This Old House...
Search Q & Archive
Project of the Week

How to Build a Trellis
Go
Your Old House
See 1000s of inspiring remodels from readers like you or show off your own remodel
Go

Calculate exactly how much material you need
Go

Meet Our Crew
Norm Abram: Master carpenter of This Old House since the series' 1979 premiere, and host of The New Yankee Workshop since its premiere a decade later, Norm Abram has inspired millions of homeowners to renovate and restore their homes. Seen across the … more
Copyright © 2013 Time Inc. All rights reserved. Reproduction in whole or in part without permission is prohibited.