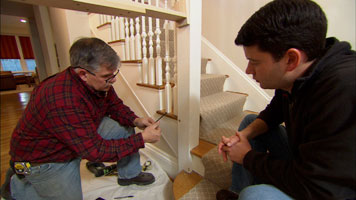 Original Air Date: Week of 04/01/2010
Plumbing and heating expert Richard Trethewey helps a homeowner replace his leaky outdoor faucet. Then, up in the loft, landscaping contractor Roger Cook shows host Kevin O'Connor how to sharpen a lawn mower blade properly. Afterward, Richard, Roger, and Kevin, along with general contractor Tom Silva ask, "What is it?" Then Tom and Kevin build custom shelving for a walk-in closet.
Replacing a Leaky Outdoor Faucet
Richard helped a homeowner replace a leaky outdoor faucet. He determined that the faucet likely had a washer in need of replacing. However, because the homeowner lived in an area with below-freezing temperatures in the winter, Richard recommended replacing the faucet altogether with a "frost-proof" model to avoid damage from freezing. The washer inside the frost-proof unit is located on the inside of the building, so water is never exposed to freezing outside temperatures.
Where to Find It?
Frost-proof outdoor faucets are available at hardware stores, home centers, and plumbing supply houses.
Sharpening a Lawn Mower Blade
Up in the loft, Roger showed Kevin how to safely remove and sharpen a lawn mower blade using a file, a bench grinder, and a sharpening stone attachment that works with an electric drill.
Where to Find It?
Sharpening accessories of all types are available at hardware stores and home centers.
What Is It?
The guys try to guess the intended purpose of an unusual-looking product.
Where to Find It?
Tom showed a device used to capture dust created when cutting holes using a drill and hole saw. It is manufactured by:
Drill-Kleen
Building and Installing Closet Shelving
Tom and Kevin built and installed cabinets and shelving for a walk-in closet. The cabinets were made from birch plywood and assembled using rabbets and dado joints reinforced with screws. To maximize storage in the new cabinets, Tom installed special hardware for garments and shoes including a fixed closet rod, slide-out pants and shoe racks, and a counter-balanced system that allows for easy access to clothes that are stored up high.
Where to Find It?
Birch plywood can be found at most home centers and professional lumberyards.
The "wardrobe lift" hardware was supplied by:
Hafele
800-423-3531
The hardware for the shoe rack and pants rack ("Komplement" brand) is available from:
Ikea