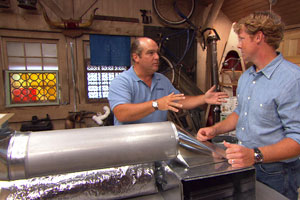 Original Air Date: Week of 12/10/2009
Landscaping contractor Roger Cook helps a homeowner install stone veneer over an ugly concrete retaining wall. Then Roger, along with host Kevin O'Connor, plumbing and heating expert Richard Trethewey and general contractor Tom Silva ask, "What is it?" Then, up in the loft, Richard shows Kevin how to retrofit dampers in forced-air HVAC ducts. Next, Tom shares a viewer tip about how to get the most from your can of insulating foam.
Installing Stone Veneer on a Concrete Wall
Roger helped a homeowner improve the appearance of an old, concrete wall by covering it with natural stone. The stone was sliced into thin pieces in a factory and glued into rectangular panels, making it easy to attach to the wall. To prepare the wall for the stone veneer, Roger first removed the existing concrete stain using a power-washer and right-angle grinder with a wire brush attached. Next, he brushed on a bonding agent to help the scratch coat of mortar stick to the concrete. Roger then mixed masonry cement, sand, water, and an acrylic additive together for the scratch coat. He then applied the scratch coat to the concrete and finished it off using a notched trowel. With the scratch coat dry, Roger back-buttered each piece with more mortar mix, and applied the panels to the wall. Some panels needed to be cut to fit in irregular spaces. Finally, Roger installed the cap pieces and the installation was complete.
Where to Find It?
Roger installed natural quartz veneer panels over an existing concrete wall.
Sierra Accentstone
Manufacturer:
Real Stone Systems
866-698-5066
Additional assistance was provided by:
Consolidated Brick
508-587-6600
Martignetti Enterprises, Inc.
781-935-6677
What is It?
The guys try to guess the intended purpose of an unusual-looking product.
Where to Find It?
Roger showed a reciprocating saw attachment used for shaking a can of spray paint or foam.
MixKwik
208-709-4308
Retrofitting Dampers in Forced-air Ducts
Up in the loft, Richard showed Kevin some ways to retrofit zoning "dampers" in existing HVAC ducts. Dampers help restrict conditioned air-flow in some parts of the house, while diverting more warm or cool air to other parts of the house where it's needed.
Richard showed a variety of tools and methods for retrofitting dampers in HVAC ducts. All of the dampers and tools for this project were provided by:
Air Purchases
Viewer Tip
Up in the loft, Tom shared a viewer tip with Kevin and Richard about replacing the applicator tube on a can of insulating foam when it becomes clogged or lost. The viewer suggested using the sheathing from a piece of romex electrical wire to replace the clogged nozzle.
Where to Find It?
Insulating foam, electrical wire, and plastic tubing are available at most lumberyards, hardware stores and home centers.