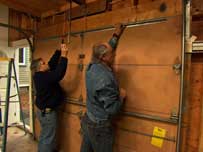 Original Air Date: Week of 03/12/2009
General contractor Tom Silva helps a homeowner install a new garage door. Then plumbing and heating expert Richard Trethewey shows a homeowner how to "winterize" his plumbing to prevent frozen pipes when the house is unoccupied.
Installing a Garage Door
Tom helps a homeowner replace an old, drafty garage door with a new, energy-efficient unit. The homeowner wanted to turn his garage into a heated workshop, so Tom recommended an insulated garage door with high-quality weather-stripping. They began by removing the old door, being careful to disconnect the springs before disassembling it. With the old door and metal tracks gone, they started installing the new door by installing the new hinges, brackets and nylon rollers, which are much quieter and operate more smoothly than the old steel ones. With the hardware installed, Tom began assembling the new door panel-by-panel in the opening, using the tracks as guides to keep them plumb. After the door was installed, Tom installed the new springs and "safety cables" to prevent injury in the event a spring should break.
Where to Find It?
Tom installed a steel, insulated garage door manufactured by:
Garaga, Inc.
8500, 25th Avenue
St-Georges, QC
G6A 1K5 Canada
418-227-2828
Installation support and new garage door provided by:
Middlesex Overhead Doors
45 Winn Street
Burlington, MA 01803
800-696-1926
Additional support provided by:
Door Systems, Inc.
800-545-3667
Winterizing Plumbing Pipes
Richard helped a homeowner prevent his pipes from freezing during the winter months. The homeowner spends each winter away and didn't want to keep heating the house while it sits empty. Without heat in the house, however, both the water supply pipes and drain traps could freeze and cause thousands of dollars of damage to the house. Richard started by locating the lowest faucet in the house to drain down all the water in the supply pipes. With the pipes fully drained, Richard connected an air compressor to blow out any remaining water that might still be sitting in the pipes. This process involved manually opening all faucets and fixtures in the house to allow the compressed air to force any water out of the supply lines and valves, including the dishwasher and washing machine. Richard did not remove the water from the drain traps, because doing so would allow sewer gasses to enter the home. Instead, he poured non-toxic antifreeze into each drain trap and toilet tank. The homeowner also had a forced hot water heating system, so Richard pumped non-toxic antifreeze into the boiler to prevent freezing of the heating pipes when not in use. Back in the loft, Richard also recommended draining any water out of stand-alone water heater tanks and lines that supply water to refrigerators.
Where to Find It?
Air-compressors and fittings of all kinds are available in home centers and hardware stores.
Non-toxic antifreeze (sometimes called "RV" or "Marine" antifreeze), is available at home centers and marine supply stores. The brand Richard used is:
Cryo-tek -100
Hercules Chemical Company, Inc.
111 South Street
Passaic NJ 07055-9100
800-221-9330