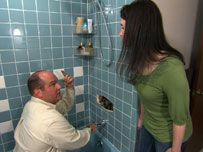 Original Air Date: Week of 12/18/2008
Landscaping contractor Roger Cook helps a pair of homeowners break apart and remove a large boulder in their backyard. Then Roger, along with host Kevin O'Connor, plumbing & heating expert Richard Trethewey and general contractor Tom Silva ask, "What is it?" Next, Richard helps two homeowners secure their loose pipes inside a shower wall and Tom shares a viewer tip about getting a secure grip on a hammer.
Removing a large boulder
Roger helped a pair of homeowner remove a large boulder from their backyard that stood in the way of the new retaining wall they were planning to build. Roger first attempted to split the rock into smaller pieces using "feathers and wedges" and a sledgehammer. After a few attempts, and little success, Roger switched to a much larger compressor-driven hammer to drive bigger feathers and wedges into the stone, which worked much better.
Where to find it?
Feathers and wedges, as well as compressor-driven drills and hammers, are available at some equipment rental centers and masonry supply yards.
What is it?
The guys try to guess the intended purpose of an unusual-looking product.
Where to find it?
Tom showed a device used to protect a roof from high winds during a hurricane. It is manufactured by:
Storm-Proof Roof
TriCord Hurricane Holdings
1201 East 33rd Street
Tulsa, Oklahoma 74105
800-738-1200
Storm-Proof Roof
Securing shaky shower pipes
Richard helped a pair of homeowners secure loose water supply pipes inside a shower wall. The pipes were not properly fastened to the framing inside the wall, so Richard suggested cutting into the wall and securing the pipes. Rather than damage the tile wall inside the shower, Richard cut into the wall on the opposite side, inside a closet. After cutting a hole large enough in the drywall to gain access, Richard screwed a piece of wood called "blocking" inside the wall and secured the pipes to it using pipe straps and screws. To cover the hole, Richard used a plastic cover with spring-loaded clips.
Richard covered the hole in the drywall using a spring-loaded plastic cover.
SpringFit Access Panel
Manufacturer: Watts Regulator Co.
815 Chestnut St
North Andover, MA 01845
(978) 688-1811
Watts Regulator Co.
Viewer Tip
Kevin and Tom showed a viewer tip on improving the grip on a hammer by using tennis racket "re-grip" or "over-grip."
Where to find it?
Tennis racket "re-grip" and "over-grip" are available at sporting goods stores. Tom demonstrated the tip using a
Dunlop
Hydramax overgrip.