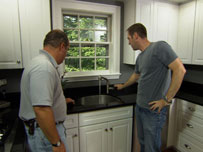 Original Air Date: Week of 11/27/2008
Landscaping contractor Roger Cook helps a pair of homeowners build a retaining wall using pressure-treated timbers. Afterward, Roger, along with general contractor Tom Silva, plumbing and heating expert Richard Trethewey and host Kevin O'Connor ask, "What is it?" Then, Richard has an easy fix for a kitchen faucet that is making a loud, shuddering sound.
Building a retaining wall
Roger helps a pair of homeowners build a U-shaped retaining wall in their backyard using pressure-treated landscape timbers. The timbers are 6x8 and are rated for "ground contact." First, Roger digs a trench and fills it with
¾
inch stone, which he then compacts. Next, he installs the first row, making sure to keep the timbers level and the corners of the wall square. He secures the first row of timbers to the ground by driving
¼
inch rebar through each timber into the ground every four feet. With the starter course in place, Roger puts filter fabric behind it to keep out silt and a drainage pipe to keep water from damaging the wall. Roger secures the remaining rows of timbers using timber screws. Near the top, he installs "dead men" to tie the walls into the earth and prevent the wall from leaning forward.
Where to find it?
6"x8" landscape timbers rated for ground contact and rebar are available at professional lumberyards.
The timber screws are manufactured by:
FastenMaster
153 Bowles Road
Agawam, MA 01001
800-518-3569
FastenMaster
Each time Roger cut a landscape timber, he applied a wood preservative to help prevent rot.
The wood preservative Roger used is manufactured by:
BEHR
(no. 3-91 Fence Post Preservative)
Santa Ana, CA 92704
BEHR
Roger used a cordless impact wrench to drive the timber screws into the landscape timbers.
18V Impactor Cordless Impact Wrench
(model #22618)
Manufacturer: Bosch
Bosch
What is it?
The guys try to guess the intended purpose of an unusual-looking item.
Where to find it?
Tom shows a device used to pull crooked framing lumber into alignment. It is manufactured by:
WoodRatchet
Kennedy Manufacturing LLC
570-223-0527
WoodRatchet
Repairing a noisy faucet
Richard helps a homeowner repair a noisy kitchen faucet. Upon close inspection, Richard discovers that it's actually not the faucet that's making noise, but the supply shut-off valve located underneath the sink. The shut-off was partially closed, which was causing a rubber washer inside to vibrate.
Shut-off supply valves are located at home centers and plumbing supply houses.