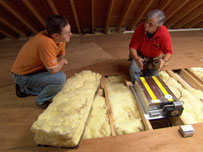 Original Air Date: Week of 11/13/2008
This episode has many tips for making your home more energy efficient. First, general contractor Tom Silva shows several different ways to seal the openings around doors, windows, and other penetrations in the shell of a house. Next, plumbing and heating expert Richard Trethewey helps a homeowner reduce his heating costs by installing a weather-responsive control on his boiler. Then, landscape contractor Roger Cook shares some tips on reducing energy costs. Finally, Tom helps a homeowner keep things cool with a whole house fan.
Weather-stripping doors & windows
Up in the loft, Tom shows Kevin a few easy ways to save on energy bills by weather-stripping doors and windows. First, Tom shows a "sweep" that can be installed on the bottom of an exterior door to seal out drafts. He also shows a type of weather-stripping that attaches to the door jamb and compresses around the perimeter of the door. For windows, Tom suggests locking them in the winter. He also recommends weather-stripping for both the top and bottom sash in double-hung windows. For gaps on older windows, he suggests foam "backer rod" or "removable caulk." For electrical outlets on exterior walls, Tom suggests foam gaskets that mount behind the face plates.
Where to find it?
Weather-stripping of all kinds can be found at most hardware stores and home centers.
Many other energy saving tips can be found at:
www.energy.gov/energytips
Making a hot-water heating system more efficient
Richard helps a homeowner make his hydronic heating system more energy efficient by installing a "weather responsive control system," sometimes called an "outdoor reset control." The control is mounted outside and adjusts the temperature of the water in the boiler depending on the temperature of the outside air. On warmer days, cooler water is used to heat the house, thereby reducing the amount of energy used.
Where to find it?
Richard installed a Tekmar Universal Reset control. It is manufactured by
Tekmar
.
More energy efficiency tips
Up in the loft, Roger offers some of his tips for making a home more energy efficient, including the use of deciduous trees to shade a house in the summer and allow sunlight to warm the house in the winter. He also recommends pergolas and awnings to provide shade in the summer, and closing shades on windows to reduce air-conditioning costs. Roger also suggests mounting window air-conditioners on the shadiest part of the house to help them run more efficiently and planting trees or shrubs to shade outdoor air-conditioning units. To reduce heating costs in the winter, Roger recommends installing a tight-fitting damper on a fireplace chimney to prevent hot air from escaping up the chimney when it's not being used.
The chimney damper that Roger showed was supplied by:
Black Magic Chimney & Fireplace
21 New St.
Cambridge, MA 02138
(617) 876-4456
Black Magic Chimney & Fireplace
Many other energy saving tips can be found at:
www.energy.gov/energytips
Installing a whole-house fan
Tom helped a homeowner reduce his air-conditioning costs by installing a whole-house fan. Mounted in the floor of the attic, the fan pushes hot air out of the attic and draws cooler air into the house through downstairs windows.
Where to find it?
Tom installed a whole-house fan (model number HV1600-GDR) manufactured by:
Tamarack Technologies, Inc.
320 Main Street
Buzzards Bay, MA 02532 USA
800-222-5932
Tamarack Technologies
Making a heating & cooling system more energy efficient
Up in the loft, Richard shows Kevin some more tips for making a heating a cooling system more efficient. First, Richard recommends installing a programmable thermostat. Next, for forced-air HVAC systems, he suggests sealing all seams in ducts to prevent hot or cold air from leaking out. For heating and hot water pipes, Richard recommends insulating them with foam insulation. For hot water tanks, he shows a fiberglass insulating "blanket" that can help save on energy costs.
Where to find it?
Programmable thermostats, pipe insulation, duct sealant, and fiberglass water heater blankets can all be found at your local hardware store or home center.
Many other energy saving tips can be found at:
www.energy.gov/energytips