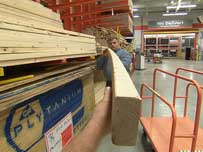 Original Air Date: Week of March 29, 2007
Up in the loft, general contractor Tom Silva shows host Kevin O'Connor how to build a simple workbench. Then Tom and Kevin, along with plumbing and heating expert Richard Trethewey and landscaping contractor Roger Cook ask, "What is it?" Afterward, Roger shows Kevin how to tune-up a gas-powered lawn mower. Then, Richard helps quiet a whistling forced-air heating system by installing a "bypass duct."
Building a simple workbench
Tom and Kevin start by visiting a local home center, where they purchase plywood and lumber for a simple workbench. Tom explains that "BC" grade plywood is a good choice because it has one side that is sanded smooth and is relatively inexpensive. They also select 2x4's for the workbench frame, making sure to get the straightest ones they can find.
Where to find it:
For a variety of different workbench plans, visit
workbenchplans.com
.
3x4 BC-grade plywood, 2x4 lumber, deck screws, and wood glue can be purchased at your local home center.
What is it?
The guys try to guess the intended purpose of an unusual-looking product.
Where to Find It
Roger showed an emergency device that allows people to rescue themselves if they should fall through thin ice.
Pick-of-Life® Ice Awls
angelguardproducts.com
800-325-4832
Lawnmower tune-up
Up in the loft, Roger shows Kevin how to tune up a gas-powered lawnmower. At the end of the mowing season, Roger recommends running the lawnmower until it is emptying of gas so it doesn't become stale and gum up the carburetor. When Spring comes, he recommends changing the oil and replacing it with the type specified by the manufacturer. Roger also recommends checking the air filter and replacing it if it appears dirty as well as replacing the spark plug. Finally, Roger recommends lubricating all the moving parts including the wheels and cables.
Where to Find It?
Lawnmower parts and accessories can be purchased at your local home center or power equipment store.
Quieting a noisy forced hot-air system
Richard helped a homeowner with a noisy forced hot-air heating system. The homeowner complained that when the heat was on upstairs and off downstairs, the system made a loud whistling sound. Richard determined that the system used "motorized zone dampers" to control the flow of air through the ducts servicing both the upstairs and downstairs registers. When the downstairs damper would close, the air pressure inside the open ducts increased, causing the whistling sound. To remedy the situation, Richard installed a "bypass" duct that diverted some of the air from the supply plenum into the return ducts, thereby relieving the pressure. Once the pressure was reduced, the whistling stopped.
Where to Find It
The bypass damper and motorized zone dampers are manufactured by:
Air Purchases
781-273-2050