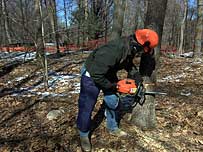 Original Air Date: Week of December 16, 2006
General contractor Tom Silva shows host Kevin O'Connor how to replace damaged cedar clapboards on the exterior of a house. Then Kevin and Tom, along with landscaping contractor Roger Cook and plumbing and heating expert Richard Trethewey ask, "What is it?" Then, Roger and chainsaw expert Tim Ard show a homeowner how to fell trees safely using a chainsaw.
Replacing damaged clapboard siding
Tom and Kevin head outside the barn to repair some cedar clapboard siding on an old house. Tom shows some nails that have popped out because they weren't digging into the wood sheathing beneath, so he pulls them out and replaces them with new stainless steel ring-shank nails driven in at an angle for better holding power. Tom also shows Kevin some individual clapboards in need of replacement.
What is it?
The guys try to guess the intended purpose of an unusual-looking product.
Where to Find It
Tom shows a two-wheeled dolly used for easily transporting long extension ladders.
Ladder Dolly (model HD02)
Manufacturer:
American Innovations Corp.
888-912-9888
Felling Trees Safely
Roger and chainsaw safety expert Tim Ard show a homeowner how to fell trees in his backyard. First, Tim shows the proper apparel, which includes head, ear and eye protection. Tim also shows special pants called "chaps," which contain ballistic nylon that protects legs against accidental contact with the chainsaw. Roger also recommends sturdy boots and gloves. Tim shows the saw's safety features, which include a throttle interlock, chain catch, and chain brake. Roger starts the chainsaw by setting it on the ground and placing his foot in the rear handle to help hold it in place during start-up. Before cutting down a tree, it is important to identify nearby obstacles, including overhead wires and trees, and also plan an escape route. Tim explains how to check which way the tree is leaning and where to make the cut. He shows how to make an open-faced notch so the tree will fall in the desired direction. He then makes a hinge cut on the back side of the tree, causing it to fall. Once the tree is on the ground, Roger and Tim then show how to safely remove the limbs and cut the tree into smaller sections. Tim shows how to use plastic wedges when making some cuts. This will keep the wood from binding on the chainsaw's blade, which can cause the saw to kick back toward the operator.
Where to Find It
Roger was joined by a chainsaw safety expert.
Tim Ard
Forest Applications Training, Inc.
P.O. Box 1048
Hiram, GA 30141
770-459-3791
The chainsaws used by Tim and Roger were provided by:
Husqvarna
704-597-5000