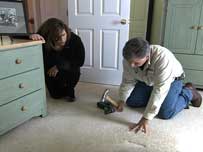 Original Air Date: Week of October 19, 2006
Plumbing and heating expert Richard Trethewey helps a homeowner replace a clogged aerator on his bathroom faucet. Then, up in the loft, landscaping contractor Roger Cook is joined by plant expert Carrie Kelly to learn about caring for houseplants. Then, general contractor Tom Silva helps a homeowner quiet a squeaky subfloor hidden underneath wall-to-wall carpeting using special "breakaway" screws.
Replacing a clogged faucet aerator
Richard helps a homeowner whose bathroom faucet shuts off when both hot and cold water are run at the same time. Richard determines that the cause of the problem is a clogged aerator, a device at the end of the faucet's spout designed to conserve water. After removing the aerator, which contains a screen and a flow restrictor, Richard sees that it has become clogged with debris. Richard replaces the aerator with a new one and the problem is fixed. Then, up in the loft, Richard shows host Kevin O'Connor the debris that got caught in the aerator; rubber pieces from plumbing washers and Teflon tape used to seal pipe threads.
Where to Find It
Faucet aerators are available at your local home center or plumbing supply house.
Selecting houseplants
Up in the loft, Roger and plant expert Carrie Kelly talk about selecting houseplants and discuss their care.
Where to Find It
Houseplants are available at your local home or garden center.
Carrie Kelly and the houseplants seen on the show courtesy of:
Mahoney's
242 Cambridge St., Route 3
Winchester, MA 01890
781-729-5900
Quieting a squeaky subfloor under carpet
Tom helps a homeowner with an upstairs floor that squeaks excessively when walked on. The floor has no access from below and is covered from above with wall-to-wall carpeting. Tom determines that the cause of the squeak is the connection between the plywood subfloor and the joists. To fix the squeaks, Tom first locates the joists by tapping the floor with a hammer. He then verifies the joist locations by using a special drill bit that helps find the joists. The joists are spaced 16" apart, so Tom then marks their locations using string and screws. Once the joists are located, Tom uses special screws to tighten the subfloor to the joists. The screws are driven down and the heads of the screws are left sticking above the carpet. A special tool is then used to break away the tops of the screws, making them invisible.
Where to Find It
Manufacturer:
Squeak No More
manufactured by: O'Berry Enterprises, Inc.
800-459-8428