Ask This Old House
Show Descriptions
Showing results for
"Season 5 | Episode #506"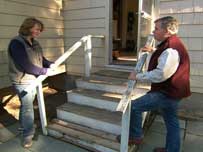 Original Air Date: Week of November 9, 2006
General contractor Tom Silva helps a homeowner with a large carpentry project: rebuilding a small exterior deck. They start by removing the existing deck, which has rotted and become unstable. Together, they build a new deck, including stairs and handrails, using pressure-treated lumber and composite deck boards.
Rebuilding a small exterior deck and stairs
Tom helps a homeowner rebuild a small exterior deck and stairs leading to a back door. The existing steps were very old and in disrepair and the railings did not have any balusters, making them unsafe for children. Tom began by removing the old deck using a reciprocating saw and prybars. Once the old deck was removed, Tom applied new flashing to the house where the new deck would be connected. He then cut and assembled the parts for the new deck using pressure treated wood and galvanized fasteners. Tom then attached the deck to the house using metal hangers and screws. He then attached the ledger board to the house using galvanized lag screws driven into the house's sill plate. He installed the 4x4 posts that support the railing and deck. Tom then cut and installed the stringers for the stairs. He then installed corner braces for the deck and risers. Tom then cut and installed the composite decking for the stair treads. He then installed the same type of decking on the deck itself, leaving a small gap in between each deck board to allow for expansion and contraction. Tom then assembled and installed the railings and the project was complete.
Where to Find It
Pressure treated lumber, galvanized fasteners, and flashing can be purchased at your local home center or lumberyard.
Tom used composite decking for the stair treads and deck.
Trex
(Color: Winchester Gray)
800-289-8739
Tom used composite deck screws manufactured by:
FastenMaster
800-518-3569
More On Ask This Old House...
Search Q & Archive
Project of the Week

How to Build a Simple Deck
Go
Your Old House
See 1000s of inspiring remodels from readers like you or show off your own remodel
Go

Calculate exactly how much material you need
Go

Meet Our Crew
Norm Abram: Master carpenter of This Old House since the series' 1979 premiere, and host of The New Yankee Workshop since its premiere a decade later, Norm Abram has inspired millions of homeowners to renovate and restore their homes. Seen across the … more
Copyright © 2013 Time Inc. All rights reserved. Reproduction in whole or in part without permission is prohibited.