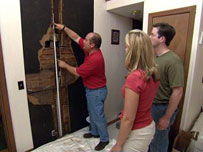 Original Air Date: Week of April 1, 2006
Plumbing and heating expert Richard Trethewey visits a homeowner in Kansas to help install a mini-split air conditioning system. Then, Richard, along with general contractor Tom Silva, landscaping contractor Roger Cook, and host Kevin O'Connor ask, "What is it?" Then, Roger helps a homeowner "wake up the lawn" in preparation for spring by using a de-thatching machine.
Installing a mini-split air conditioning system
Richard heads to Kansas to help a pair of homeowners install an air-conditioning system. The main house has central air-conditioning but the system cannot be expanded to cool a recently-built addition. So, Richard recommends a "mini-split" air conditioner that doesn't require any ductwork and will operate independently of the home's main HVAC system. The mini-split system consists of two main components, a condenser/compressor unit that is located on the outside of the house, and an air-handler unit on the inside. This system is quieter than a window air-conditioner because the noisiest parts of the system are located on the outside of the house.
Where to Find It
Richard installed a "Mr. Slim" mini-split air conditioning system manufactured by:
Mitsubishi HVAC
800-433-4822
Installation assistance was provided by:
C.M. Mose & Son Heating & Cooling
816-781-4707
What is it?
The guys try to guess the intended purpose of an unusual-looking object.
Where to Find It
Roger showed a strobe light used for evicting squirrels and raccoons from attics and crawlspaces.
Squirrel Evictor
215-362-8205
De-thatching a lawn
TRoger visits a homeowner to help him prepare his lawn for spring. Roger recommends removing a built-up layer of organic material on the surface of the lawn called "thatch." Thatch can be removed with a hand tool called a "thatch rake," but this process can be time consuming. Roger recommends using a gasoline-powered "de-thatcher," also known as a "power rake." It has a series of spinning blades that quickly break up and loosen the thatch layer. The organic material on the surface of the lawn can then easily be raked up and removed. De-thatching also loosens the top layer of soil, so Roger recommends adding grass seed to any bare spots to help the lawn thicken.
Where to Find It
De-thatching machines (also called "power rakes") are available for rental at your local home center or rental center.