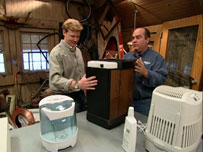 Original Air Date: Week of February 11, 2006
General contractor Tom Silva shows host Kevin O'Connor how to build a custom cover for a radiator. Then plumbing and heating expert Richard Trethewey shows Kevin several different types of humidifiers and then makes a housecall to help a homeowner install a steam humidifier on her forced-air heating system.
Building a custom radiator cover
Tom and Kevin visit a local home center to purchase supplies for building a custom radiator cover. They purchase medium density fiberboard (MDF), cove moulding, and a metal grille. Back in the loft, they begin building the cover by cutting the MDF using a circular saw and straight-edge. Tom cuts the legs of the radiator cover using a jig saw and then assembles the MDF pieces using wood glue and drywall screws. They then cut the mouldings to length and miter the ends using a power miter saw. Tom then attaches the mouldings using a pneumatic pin nailer and attaches the metal grille using a stapler.
Where to Find It
Tom and Kevin visited a local
Home Depot store
to purchase the medium density fiberboard (MDF), mouldings and metal grille. Tom then used regular wood glue and drywall screws to assemble the unit. He used a headless pin nailer and compressor to secure the moulding:
Bostitch 23-Guage Headless Pinner (model TU-216-2330)
Bostitch Trim Air 1.5 Peak HP Oil-Free Contractor Compressor (model CAP1516)
Both are tools manufactured by:
Stanley Fastening Systems, L.P.
800-556-6696
The pre-manufactured metal radiator cover shown by Tom is manufactured by:
Arsco Mfg. Radiator Covers
800-543-7040
Installing a steam humidifier in a forced-air heating system
Richard visits a homeowner who complains that the air in her house is too dry during the winter months. He recommends a humidification system that creates steam and distributes it to different parts of the house via the furnace's heating ducts. First, the humidifier unit is mounted on the wall in the basement; it uses electricity to create steam. The steam travels through a hose to a steam distributor wand that is installed in a hole cut into the main heating plenum. Finally, a humidistat is installed upstairs to turn the system on and off automatically based on the level of humidity in the living areas of the house.
Where to Find It
Richard installed a "Resdelux" electrode steam humidifier manufactured by:
Nortec Industries Inc.
866-667-8321
Installation assistance was provided by:
Central Cooling & Heating, Inc.
617-928-3366
Other assistance was provided by:
Norman Associates, Inc.
940 Main St
Waltham, Ma 02451
781-893-5975
In the loft, Richard discussed several other types of humidifiers, including:
Holmes Small Room Warm Mist Humidifier
, Model# HM5250-UC
Kenmore 8-gallon evaporative humidifier, Sears item #03215408000, Mfr. model #15408
Sears, Roebuck & Co.