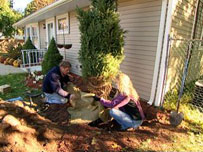 Original Air Date: Week of February 4, 2006
Landscaping contractor Roger Cook shows a homeowner how to transplant a spruce tree that was originally planted too close to her house. Then Roger, along with plumbing and heating expert Richard Trethewey, general contractor Tom Silva, and host Kevin O'Connor ask, "What is it?" Then, Tom heads off to Seattle to help a homeowner extend a staircase handrail using a new type of fastening system.
Transplanting a white spruce tree
Roger helps a homeowner transplant a white spruce tree that has grown up against the house. Roger proposes moving the tree to the backyard where it will benefit from more sunlight and can grow unobstructed. They begin by carefully digging out the tree, creating a root ball with a diameter that is 10 times larger than the diameter of the trunk. They wrap the root ball in burlap and load the tree onto a tree dolly. They then dig a hole in the backyard that is twice as wide as the tree's root ball and slightly shallower. They then lower the tree into the hole and remove the burlap. Before backfilling with loam, they add a little starter fertilizer to give the tree a healthy start. Roger then ties the tree to a couple of wooden stakes with plastic cable to keep the tree upright until the roots become established.
Where to Find It
Roger showed a type of plastic cable used for "staking" the tree.
ProLock® Chain-lock Tree Tie
Manufacturer:
Dimex Corporation
800-334-3776
What is it?
The guys try to guess the intended purpose of an unusual-looking object.
Where to Find It
Tom showed an antique device used for setting the angle of a handsaw's teeth after it's been sharpened. This tool is not available for purchase and was loaned to us by:
Midwest Tool Collectors Association
A newer version of this tool (SKU no. SS7) is available from:
Great Neck Saw
Extending a staircase handrail
Tom visits a homeowner in Seattle to help him extend a handrail on his staircase. The handrail will extend several inches and then curve and connect onto a newel post. After cutting the necessary handrail pieces to length on a miter saw, Tom connects them together using a new type of fastening system that uses a spinning magnet to tighten fasteners that are hidden inside the rail.
Where to Find It
Tom showed a new type of fastening system called Invis® that uses a spinning magnet to tighten hidden fasteners. It is manufactured by:
Invis North America, Inc.
877-867-9019
The same fastening system (including the handrail jig) is also available from the manufacturer of the wooden stair rail parts. This manufacturer refers to the system as the "EasAlign" system. For more information, visit:
Crown Heritage
800-745-5931