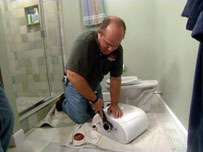 Original Air Date: Week of January 21, 2006
Up in the loft, general contractor Tom Silva shows host Kevin O'Connor several different types of hammers and how to use them properly. Then, plumbing and heating expert Richard Trethewey helps a homeowner repair a pressure-assisted toilet. Tom then gives Kevin some lessons on how to patch a large hole in a wall using veneer plaster and blueboard.
Choosing and using hammers
Tom and Kevin answer a viewer's question about choosing and using hammers. Tom shows some different types including framing, shingling, and brick hammers. He also talks about the different head sizes and materials used in the handles. Tom then gives Kevin a lesson on the proper way to grip and swing a hammer.
Where to Find It
Some of the hammers shown were manufactured by the following companies:
Estwing®
815-397-9558
Vaughn®
Plumb® manufactured by:
Cooper Hand Tools
Stanley®
860-225-5111
Douglas Tool, Inc.
831-420-0456
Repairing a pressure-assisted toilet
Richard helps a homeowner repair a pressure-assisted toilet that is making a loud thumping sound. He determines that a temporary drop in water pressure is causing the problem and that a new "pressure regulator" inside the toilet tank will eliminate the noise. Richard first shuts off the water supply to the toilet. He then removes the tank from the bowl and takes the flush unit out. He then replaces the pressure regulator on the flush unit and reinstalls everything back inside the tank.
Where to Find It
The flushing mechanism of the pressure-assisted toilet (model number 503) and pressure regulator are manufactured by:
Flushmate
A division of Sloan Valve Company
800-533-3460
Repairing a plastered wall
Tom shows Kevin how to repair a large hole in a plastered wall. Instead of patching the hole with regular wallboard and joint compound, Tom uses a different type of gypsum wallboard product called "blueboard." The blueboard is designed to accept a skim coat of "veneer" plaster. Tom first cuts a square piece of blueboard slightly large than the hole. Then, after tracing around the patch onto the wall, Tom uses a wallboard saw to cut the hole a bit larger so that the patch will fit. He then screws two short pieces of 1x3 lumber behind the plaster wall so that he'll have a backer to screw the blueboard patch onto. He then applies fiberglass mesh tape all around the perimeter of the patch and applies plaster over the entire surface, bringing it flush with the rest of the wall.
Where to Find It
Uni-Kal® Veneer Plaster
Manufacturer:
National Gypsum Company
704-365-7300
Blueboard is available at some lumberyards and home centers.