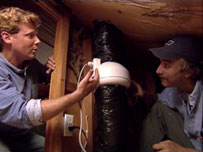 Original Air Date: Week of January 5, 2005
Host Kevin O'Connor heads to Minneapolis, Minnesota to help a pair of homeowners who have discovered dangerous levels of radon gas in their finished basement. Then, up in the loft, Kevin shows a number of radon test kits available at home centers and local health departments. Then, landscaping contractor Roger Cook shows a homeowner how to prune his apple tree to produce healthy fruit.
Installing a radon mitigation system
Kevin visits a pair of homeowners in Minneapolis, Minnesota who are concerned about radon. The results of a radon test showed a high level of radon gas in the basement. Kevin meets Jack Bartholomew, Jr., a radon mitigation specialist who is installing an "active" radon mitigation system. The system consists of a pipe that is installed beneath the basement's concrete slab. A fan in the attic is connected to the pipe and pulls the radon gas from beneath the home's foundation before it can enter the basement.
Where to Find It
Radon Mitigation Specialist:
Jack Bartholomew, Jr.
Radon, Energy, and Ventilation
612-721-8762
Technical assistance provided by:
Joshua Kerber, Research Scientist
Minnesota Dept. of Health, Indoor Air Unit
800-798-9050
Radon test kits are available at your local health department or home center.
Pruning an apple tree for fruit production
Landscaping contractor Roger Cook helps a homeowner prune his "golden delicious" apple tree so that it will bear fruit. They begin by visiting a local apple orchard to see what a properly-pruned apple tree looks like. They then return to the house to prune the homeowner's tree by first removing the branches that are rubbing against each other. Roger then opens up the center of the tree by removing smaller growth with "bypass" hand-pruners. Using a pole pruner and loppers, he then shapes the tree by removing additional branches, being careful to only remove a third of the tree. Roger then wraps the trunk with hardware cloth to prevent deer from rubbing against it, which can damage the tree's bark. He then says to remove grass around the tree and lay down mulch to reduce weeds and conserve water. For watering, Roger recommends using a "soaker hose." He also says to rake up the leaves each Fall instead of leaving them on the ground to prevent disease.
Where to Find It
Roger visited a nearby apple orchard:
Smolak Farms
978-682-6332
Other assistance was provided by:
Bartlett Tree Experts
800-969-5990