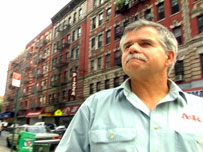 Original Air Date: Week of December 29, 2005
General contractor Tom Silva heads to New York's "lower east side" to help a pair of apartment-dwellers install a new vinyl floor. Then Tom, along with plumbing and heating expert Richard Trethewey, landscaping contractor Roger Cook and host Kevin O'Connor ask, "What is it?" Then, up in the loft, Richard shows Kevin a few ways to prevent plumbing pipes from freezing in the winter and the proper way to thaw pipes if they do freeze.
Installing a new vinyl floor
Tom helps a pair of New York City roommates cover up their old kitchen floor with a new vinyl one. After removing the refrigerator, they get to work prying off the old threshold between the kitchen and living room and remove a short piece of baseboard molding. Tom then makes a paper template that he'll use to transfer the shape of the floor onto both the luan plywood underlayment and vinyl finished floor. Tom then fills a large void in the old floor with a floor-patching compound. After tracing around the paper template, Tom cuts the underlayment with a circular saw and installs it using ring-shank nails. He then uses the same template to trace around the vinyl flooring and cuts it using a knife with a hook-shaped blade. Tom then installs the vinyl floor using a notched trowel and adhesive around the floor's perimeter. A new baseboard and metal threshold complete the project.
Where to Find It
The vinyl sheet flooring and floor patching compound were manufactured by:
Armstrong Flooring
800-233-3823
Technical assistance provided by:
Apollo Distributing Company
973-228-5000 or 866-294-1800
The other tools and materials for this project, including scribing felt, luan plywood, and hook-blade knives, may be purchased at a flooring store, lumber yard, or home center.
What is it?
The guys try to guess the intended purpose of an unusual-looking product.
Where to Find It
Tom showed a pneumatic device that holds clapboard siding against a wall, allowing one person to install it easily.
Little Green Sucker manufacturered by:
Keico, LLC
770-957-7235
Preventing frozen pipes
Up in the loft, Richard shows host Kevin several options for preventing and thawing frozen pipes. Richard recommends stopping the movement of cold air around a pipe by sealing outside penetrations using expanding foam or caulk. He then shows a type of electric heat tape that can be used to keep pipes warm, but recommends only using it as a last resort. Richard shows foam pipe insulation and explains the proper way to cut and install it. In the event a pipe freezes, Richard recommends leaving the faucet open while trying to thaw the pipe. To thaw a frozen kitchen pipe, Richard suggests opening the bottom cabinets to allow warm air to reach the pipe. He also says that careful use of a temporary space heater, hair dryer or heat gun may thaw the pipes. Richard says to never use a torch to unfreeze pipes because of the fire danger it presents. Finally, Richard shows an electric device used by plumbers to thaw a pipe that's inaccessible to a homeowner.
Where to Find It
Pipe insulation is manufactured by:
FrostKing
800-299-5700
and
Armacell
Electrical heating tape is manufactured by:
Easy Heat, Inc.
800-562-6587