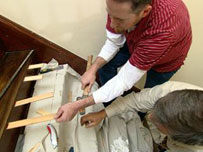 Original Air Date: Week of October 13, 2005
General contractor Tom Silva quiets a homeowner's squeaky stairs and replaces a broken baluster. Then Tom, along with plumbing and heating expert Richard Trethewey, landscaping contractor Roger Cook, and host Kevin O'Connor ask, "What is it?" Then, Richard helps a homeowner prevent a damaging flood by installing an automatic shut-off valve for her washing machine.
Quieting creaky stairs
Tom quiets a creaky old staircase by inserting wooden shims between the risers and treads where they attach to the stringers beneath. He secures the shims using polyurethane glue and trim screws, hiding the heads of each screw with wood putty and stain to match the color of the staircase. To repair the broken baluster, Tom uses a self-made jig to hold the two pieces in place while he drills holes into each. For this, he uses a plunge router with a collar and straight-cutting bit. He then connects the two broken pieces with a length of wooden dowel and glue. Finally, Tom reattaches the repaired baluster using finish nails.
Where to Find It: Plunge router
Hitachi Koki Co., Ltd.
770-925-1774
Polyurethane glue:
The Gorilla Glue Company
800-966-3458
Trim screws, finish nails and wooden dowels are available at your local home center.
Static cling solution
Roger showed a set of rubber balls used to soften clothes and keep them from sticking together in the dryer due to static cling.
Where to Find It: Dryer rubberballs
Nellie's Dryerballs by Batten Industries
®
888-984-7471
Installing an electric shut-off valve for a washing machine
Richard installs an electric shut-off valve that's specially designed for washing machines. The valve takes the water pressure off of the machine's hoses when it's not in use, thereby preventing the hoses from bursting. Richard begins by closing the water shut-offs and removing the hoses. He then connects the new valve to the shut-offs using CPVC pipe and fittings. He then secures the valve to the wall using hollow wall anchors and screws. He then reattaches the hoses, opens the shut-off valves, and plugs the power cord into a nearby receptacle. Finally, Richard places a leak sensor underneath the machine that will cause the valve to close in the event the machine itself springs a leak during a wash cycle.
Where to Find It: Automatic shutoff valve
Valve: Model #A2C-M1
Retro-fit installation kit: Model KA2-BD
Manufacturer:
Watts Regulator Company
978-688-1811