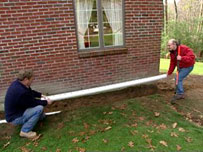 Original Air Date: Week of March 28, 2005
General contractor Tom Silva makes a house call to Atlanta, Georgia to show homeowner Terry Andrews how to use masonry fasteners to install window boxes on his brick townhouse. Then Tom, along with plumbing and heating expert Richard Trethewey, landscaping contractor Roger Cook, and host Kevin O'Connor ask, "What is it?" Then, back in the loft, Richard shows Kevin several different ways to make copper pipe connections, including a new solderless system. Then, Roger helps homeowner Alan Lear of Carlisle, Massachusetts install a perimeter drain to catch rainwater running off of his roof.


Installing Window Boxes on Brick Siding
Tom installs copper window boxes onto brick siding using masonry fasteners. He first selects a fastener that will expand inside the siding when the bolt is tightened. He then measures for the location of the brackets so the boxes will be centered under the window. He then pre-drills holes for the fasteners using a hammer drill and masonry bit. He then tightens the bracket bolts and hangs the boxes.
Where to Find It: Window boxes
Smith and Hawken
800-940-1170
Masonry fasteners like the ones Tom showed can be purchased at your local home center. Hammer drills and masonry bits can be purchased or rented at most home centers or tool rental companies.
What is it?
Tom shows a magnetic broom for picking up metal fasteners off the floor and Richard showed a device for bending copper tubing.
Where to Find It
Magnetic Broom
SMV Industries
(Contact information not available)
Similar magnetic brooms are available some home centers and hardware stores.
Tubing bender
Great Neck Saw Manufacturers, Inc.
516-746-5352
Making Plumbing Connections
Richard shows how to make a number of copper plumbing connections, including a "sweat" connection, "flared" connection, "compression" connection, and "crimp" connection.
Where to Find It
The professional crimping tool that Richard demonstrated is:
RIDGID-Viega Pro-Press System
888-743-4333
Other tools and materials (including solder, flux, plumbing torches, flaring tools, and compression fittings) are available at your local home center or plumbing supply company.
Installing a Drip Strip
Roger installs a perimeter drain to catch rainwater falling from a roof. He first digs a shallow, V-shaped trench and lines it with plastic. He then inserts a perforated plastic pipe and covers it with crushed stone and filter fabric.
Where to Find It
Lightweight perforated pipe, gravel, plastic sheeting and filter fabric can be purchased at your local garden center or home center.