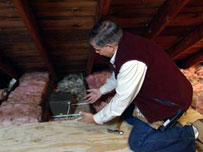 Original Air Date: Week of March 14, 2005
Plumbing and heating expert Richard Trethewey helps a pair of homeowners from Arlington, Massachusetts install an electronic air cleaner on their forced-air furnace. Then landscaping contractor Roger Cook shows host Kevin O'Connor some tools and materials for removing ice from concrete walkways. And general contractor Tom Silva shows homeowner Enza Sheehan of Swampscott, Massachusetts how to properly vent a bathroom fan to the outside of the house.


Installing an Electronic Air Cleaner
Richard installed an electronic air cleaner on a forced-air furnace. He explained that the new unit will filter particles 100 times smaller than the old one-inch pleated filter. Richard also explained that the new filters can be cleaned by simply washing them in a dishwasher.
Where to Find It: Electronic air cleaner
American Standard
617-292-5834
Technical assistance was provided by:
S.G. Torrice Company
978-657-7779
Removing Ice From a Walkway
Roger shows Kevin some methods for removing stubborn ice from a walkway, including proper use of shovels, ice-chippers, de-icing salts, and sand.
Where to Find It
Prestone calcium chloride pellets, Road Runner enhanced calcium chloride blend and De-Icing Salt (sodium chloride/rock salt) manufactured by:
Scotwood Industries, Inc.
800-844-2022
Snow shovels, ice chippers and hand spreaders are available at your local garden center or home center.
Venting a Bathroom Fan
Tom repairs an improperly-vented bathroom fan by attaching it to a louvered-vent he installs on the outside of the house. He first drives a nail through the gable end of the house as a guide for cutting a hole for the vent. From the outside of the house, he drills a hole for the new vent using a four-inch hole saw. He then caulks around the vent using an acrylic-latex caulk with a silicone additive and fastens it with screws. Finally, he connects a length of flexible metal vent to both the vent and fan.
Where to Find It
Ladders supplied by
Lynn Ladder Co.
800-596-6717
Vents, caulk, flexible metal duct, elbows and foil tape can all be purchased at your local home center.