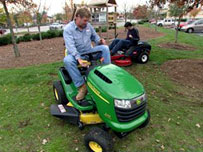 Original Air Date: Week of February 28, 2005
Landscaping contractor Roger Cook heads to Alpharetta, Georgia to help homeowner Dale Eneberg shop for a new riding lawnmower. Then Roger, along with plumbing and heating expert Richard Trethewey, general contractor Tom Silva, and host Kevin O'Connor ask, "What is it?" Later, Tom replaces a rotting wooden threshold for homeowners Steve Chapman & Maggie Hale of Arlington, Massachusetts. And, back in the loft, Richard shows Kevin how garbage disposers work and explains how to keep them working like new.


Riding lawnmowers
Roger takes a homeowner to a local home center to shop for a new riding lawnmower. Roger explains the different features of each machine and takes some outside for a test drive.
Where to Find It:
John Deere L110 manufactured by
John Deere & Company World Headquarters
309-765-8000
Toro TimeCutter Z manufactured by
The Toro Company
800-348-2424
Murray, Inc.
800-224-8940
All three riding lawnmowers featured in this episode are available at most Home Depot locations.
What is it?
Tom showed a device for holding a plaster hawk on a belt.
Where to Find It
Tommy Hawk Holder
7 Gary St.
Lindenhurst, NY 11757
631-226-1618
Garbage Disposers
Richard shows Kevin how a garbage disposer works. He also shows how to clear a jam and explains how to prevent disposer jams altogether.
Where to Find It
Insinkerator: manufactured by
In-Sink-Erator
800-558-5700
Garbage Disposer Wrench (part number 45101), manufactured by:
Kitchenaid
800-541-6390
Replacing a rotting wooden threshold
Tom replaces a rotting, oak threshold with a new one. He cuts the middle section of the old one out using a reciprocating saw. He then cuts through all the nails and removes the threshold. He then reinforces the structure underneath with pressure-treated wood. Tom then glues the new threshold in place using tri-polymer caulk and an expandable foam product.
Where to Find It
Tri-polymer caulk:
Geocel
800-348-7615
Expandable foam:
Great Stuff Insulating Foam Sealant manufactured by
The Dow Chemical Company
989-636-1000