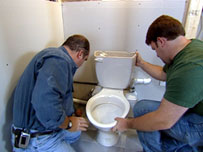 Original Air Date: Week of February 21, 2005
General contractor Tom Silva shows host Kevin O'Connor what's inside a typical residential electrical service panel. Then, master electrician Allen Gallant helps homeowner Steve Bankowitz of Burlington, Massachusetts install a new 220-volt receptacle in his garage-turned-woodshop. Landscape contractor Roger Cook shows Kevin what types of hand tools every home gardener should own. Then, the crew asks "What is it?" in the Ask This Old House loft. Later, plumbing and heating expert Richard Trethewey helps homeowner Scott Jones of Arlington, Massachusetts install a macerating toilet in his basement.


Installing a 220 Volt Receptacle
Master electrician Allen Gallant installs a 220-volt receptacle in a garage for a stationary band saw. First, he inspects the sub-panel to see if it has enough capacity. Then, he runs metal-clad (MC) cable from the sub-panel to the new receptacle and makes the necessary connections.
Where to Find It: Master electrician:
Allen Gallant
Gallant Electric, Inc.
4C YD Road
Bedford, MA 01730
781-862-4636
MC cable, old-work boxes, receptacles and breakers can be purchased at your local electrical supply house or home center.
Gardening Hand Tools
Landscaping contractor Roger Cook shows Kevin some hand tools that every gardener should own.
Where to Find It
Garden hand tools can be purchased at your local nursery, garden center or home center.
What Is It?
Roger showed a device for holding corncobs to divert squirrels from bird feeders.
Where to Find It: Corn Trapper Spring Squirrel Feeder
Heritage Farms/Century Tool & Manufacturing Company, Inc.
800-845-2473
Installing a Macerating Toilet
Richard installed a macerating toilet in a newly-finished basement. He connected the macerating unit to previously-installed water supply, waste, and vent lines. He then connected the toilet to the macerator, plugged the unit into a 110-volt GFCI outlet, and turned on the water.
Where to Find It: Saniplus macerating toilet
Saniflo
519-824-1134
800-363-5874
Other plumbing supplies can be purchased at your local plumbing supply house or home center.