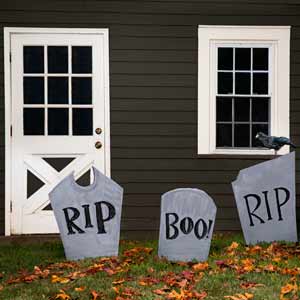 Time: 1 hour
Cost: From $6.48 for a basic tombstone to $9.57 for a more elaborate design
Difficulty: Easy

Tools:
Utility knife
Tape measure
Small paintbrush

Shopping List:
2-inch rigid foam insulation
Stone-effect spray paint
Black paint for the epitaph

Extend an otherworldly welcome to Halloween revelers with a row of tombstones on your lawn. Using a utility knife, cut 2-inch rigid foam insulation into the shape of a grave marker, and carve letters in it for the epitaph. Cover with stone-effect spray paint, and brush black paint onto the letters. Prop up from behind. You'll have a scene that's to die for.