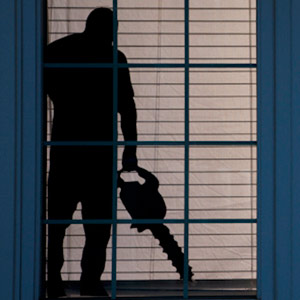 With these ghoulish characters looming in your windows, you'll leave the neighbors fearing what takes place in your workshop when the lights go out. Grab your scissors and tape, and prepare to embrace your DIYer dark side.
Note: The overall size of each template is roughly 26 by 40 inches, so check the size of your windows before beginning.

Time: Under 1 hour
Cost: Under $10
Difficulty: Easy. Our downloadable templates make this project as simple as printing, tracing, and cutting.

Tools needed:
Scissors
White wax pencil
X-Acto knife


Shopping list:
28- to 32-pound heavy black paper, at least 32 by 40 inches Transparent tape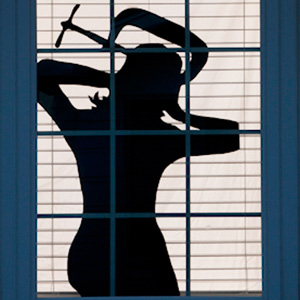 Download one of our templates:
•
Disturbed Woodsman
•
Under Pressure
•
Drill Headache
Step 1:
Select your preferred silhouette and download the corresponding template. Open the file and print all 16 pages. No adjustments should be needed in your printer's dialog box; just click "Print."
Step 2:
Arrange the pages of the template so that the corresponding numbers in the corners of the pages match. (See photo for reference.) Put the pages together with transparent tape.
Step 3:
Cut out the template with scissors. Place the template atop the heavy sheet of black paper, and trace the silhouette with a white wax pencil.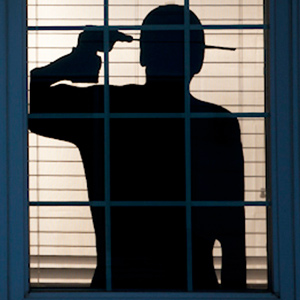 Step 4:
Using an X-Acto knife, cut out the outline of the traced silhouette on the heavy black paper.

Step 5:
Tape the silhouettes in place. You may need to modify them to fit your windows. If the windows are double-hung, cut the silhouette in half and tape the lower half under the bottom sash and the top half above the top sash, with the paper coming right up to the frame. If you're spanning two close-together windows, cut the silhouette vertically and abut the halves to either side of the window frames.