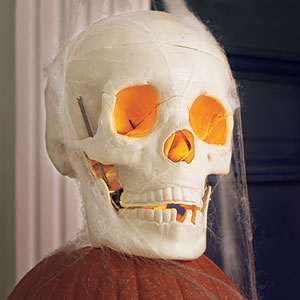 Time:
5 minutes
Cost:
About $29
Shopping List:
Fake human skull
Battery-powered LED tea light
Tools List:
Drill/driver for creating bigger holes in the skull, if necessary
Heads above the typical jack-o'-lantern, this flickering noggin adds a devilish look to a stack of pumpkins—and you can create it in less time than it takes to fill a candy bowl. First, make sure to choose a skull with large holes in the eye-sockets, missing teeth, or other spaces that will emit light. We got ours from the
Anatomical Chart Company
(about $24). Then simply set a battery-powered LED tea light behind the jaw and turn it on at dusk for a ghostly glow.