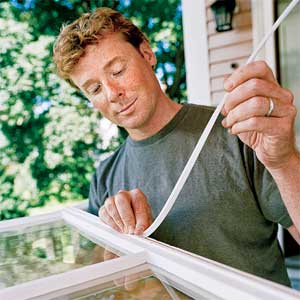 Keep wood windows looking and working their best with these quick fixes to six common problems.

Worn Weatherstripping
Pull off the old seals, and replace them with matching strips sold by online retailers like ultrafab.com. Avoid felt weatherstripping, which absorbs water and turns hard.

Dirty Wood
Clean with dish soap and water, and rinse thoroughly. On stains, use a spray like Fantastik; avoid abrasive cleaners.

Sticky Double-Hungs or Sliders
Rub jambs and tracks with a light coat of silicone-free Slip-It, about $7.30 per pint; slipit.com.

Creaky Casements and Awnings
With the sash open, vacuum out the crank housings, then lubricate the crank, extension arms, and hinges with dry silicone spray. Wipe off excess with a rag. Tighten any loose screws.

Cloudy Glass
Clean at least once a year using a mild detergent and soft-fiber cloth. Rinse and wipe clean with a squeegee.

Stuck Sash
Dried paint is the typical culprit. Slice through the hard film all around the sash with a putty knife, 5-in-1 tool, or window-opener saw.