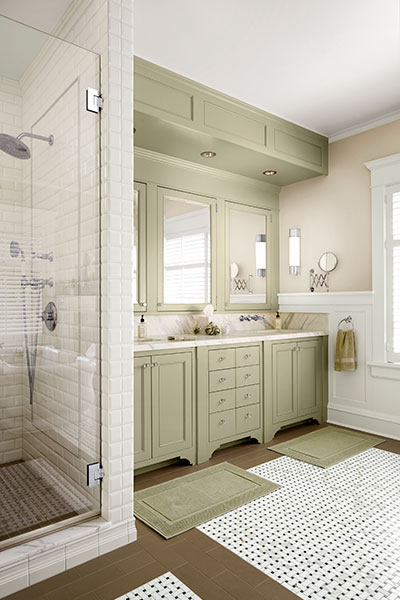 »
Homey, Spacious New Master: After
Historic charm often ends at the bathroom door. It certainly did at Roger Nyhus's 1906 home in Seattle, where the bath was a showerless space with, as he says, "only enough storage for a toothbrush." What he craved instead was "a spa-like sanctuary where I could get centered in the morning and wash away stress at the end of the day." And while Roger wanted to respect the house's history, he didn't want to compromise on features like a large tub and a separate shower.
Designers Mike Freeman and Kim Clements
found space to spare by converting the existing master bath into a walk-in closet and commandeering an approximately 15-foot-square bedroom turned dressing area for the new bath. Working around a large window, they placed a double vanity and a shower on one wall perpendicular to it, and a freestanding tub and enclosed commode opposite them. A deep soffit above the sinks creates an alcove effect, and tile "rugs" divide the room into stations. "The tile rugs make it especially homey," Roger says. "I've never walked in and felt it was too big. It fits me perfectly."
Contribute to This Story Below