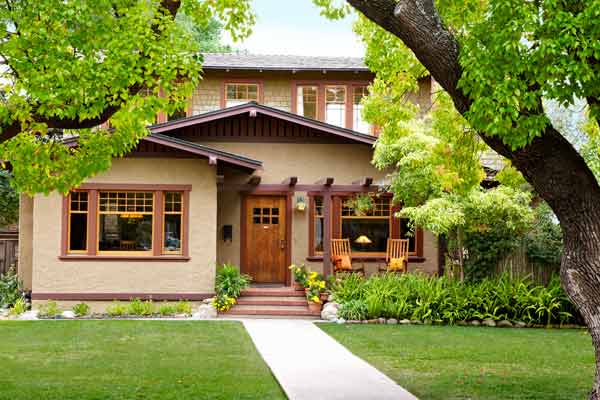 »
Fresh Faced
Ripping up floors, yanking out windows, wrestling with vent ducts, sleeping in dust, eating out of a plug-in frying pan—hey, "it makes a house your own," says Pierre Rademaker, the brawn behind the redo of the house he shares with his wife, Terri, in San Luis Obispo, California. "It means you own it, emotionally....There's something primal about creating your own shelter. You can't really delegate it."

Easy for him to say. An irrepressible DIYer with a helper-enabler of a spouse, Pierre doesn't mind crouching over yellowed linoleum adhesive and scraping until his arm practically falls off—or the floor cries uncle. Asked what it was like to strip layers of paint off pitted, nearly century-old brick and Douglas fir, the couple wax philosophical. "It was stylish to paint woodwork white in the 1930s," Pierre says graciously. Terri adds, both of them laughing, "Unpainting it is a lot of work!"

Shown: With its pergola, exposed rafters, and grid-pattern lights, the house was just right for a couple with a zeal for period details. New siding matches the original pebbly stucco.

Contribute to This Story Below