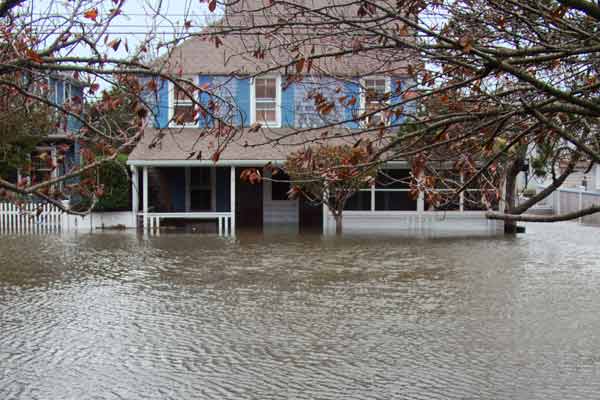 »
Leaky Mess
We've all seen it on the news. Hurricanes are bigger and more frequent. Sea levels are rising. And severe flooding—which has long plagued homeowners on the coasts and on the floodplains surrounding major rivers—is hitting homes situated along smaller waterways, too. Fourteen months before last fall's Superstorm Sandy shocked the Eastern Seaboard, inland communities in New Jersey, upstate New York, and Vermont experienced the damaging effects of encroaching waters from Tropical Storm Irene. While coastal floods during hurricanes are relatively short-lived, inland river flooding, such as in Alberta, Canada, in June 2013 or in the aftermath of 2005's Hurricane Katrina, can last for days or even weeks.

And things are likely to get wetter. In its 2013 report on the likely effects of climate change, the Federal Emergency Management Administration (FEMA) predicted that areas of the U.S. at risk for flooding will increase by as much as 45 percent by the end of this century. That's why many homeowners are bracing for the bad storms now, before the deluge.

Keeping a home habitable after an extreme weather event is all about putting multiple protective measures in place, says Karen Durham-Aguilera, the director of contingency operations and homeland security for the U.S. Army Corps of Engineers. A look at the Jersey Shore rebuilding featured on the new season of TOH TV, which begins airing this month, highlights what experts are calling "layered" design features that can help homes and their occupants survive potential weather catastrophes. And when it comes to flooding, it all starts with raising a house above the predicted danger zone. Here's a closer look at how it's done.

Shown: Superstorm Sandy left the first floor of this 1890s house, in Bay Head, New Jersey, under 5 feet of water. The homeowners wanted to rebuild.

Contribute to This Story Below