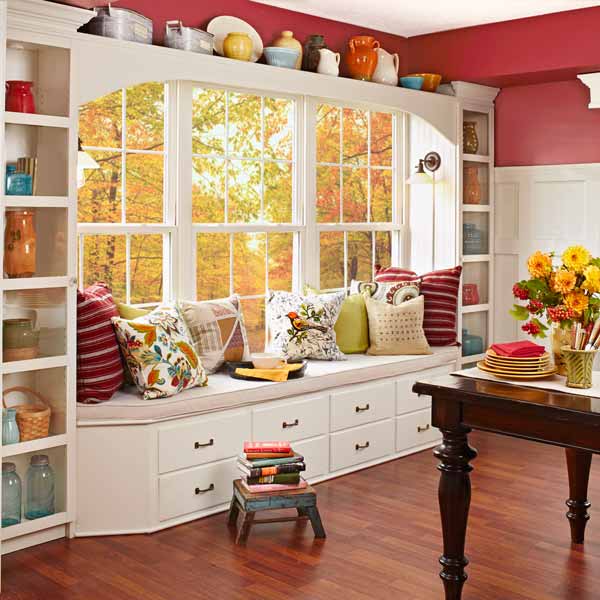 »
Welcoming Window Seat: After
Melissa Thorn, Georgetown, Kentucky

"I always dreamed of having a window seat," says Melissa Thorn. "They're so quaint, and just what I imagine in a country cottage." Lucky for her, the expansive windows in her family's dining room—hidden behind stuffy formal drapery—were begging for just such a built-in to open up the room and highlight the garden view. Melissa got the project rolling by salvaging a bank of bulter's-pantry drawers (free!) from a nearby 1916 house that was destined for demolition. Once home, she found they perfectly spanned the windows and that two narrow prefab bookcases filled the spaces alongside. She used sections of medium-density fiberboard (MDF) and some 2x4s she had on hand to join the drawers and shelves and to create the seat. Up top, she framed the window with a wall-length shelf and an arch she built with wood salvaged from the same vintage home. Sconces discretely plug in just behind the drawers. After adding molding to the bookcases and top shelf and covering the sides of the bookcases with leftover breadboard, she painted it all white. Melissa sewed the seat cushion from foam bought on sale and two canvas drop cloths. Today the space is a sunny spot where the whole family likes to curl up with a good book or take in the outside view—exactly what she'd hoped for.

Shown: Bright white built-ins accent the window and provide an extra-wide seat to hang out on.

Contribute to This Story Below