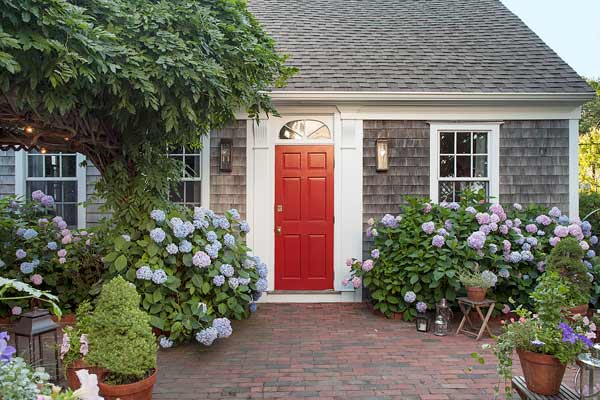 »
An American Antique
As American houses go, they don't get much older than this. Its original portion is one of historic Provincetown, Massachusetts's earliest survivors, built facing the bay to greet travelers who made their way to its front door by sea or along the "shore road," as the beach was sometimes called.
"Unfortunately, most of the town records were destroyed by a fire in 1850, so we don't know exactly how old the house is," says interior designer and co-owner Kevin O'Shea. "But we know it was already here in 1750." Martin House, as it is known locally, after the last restaurant that operated on the premises, now backs up to Commercial Street, the resort town's main road. And it is once again a private home after life as a birthing house, a nursing home, and a series of local-landmark eateries said to have been visited by the likes of Al Gore and Jacqueline Kennedy Onassis.
Shown:
Framed by neoclassical pilasters and a simple fanlight, the original entry faces the beach. The house came with an expansive brick patio, lined with thriving hydrangeas, that had been used by the restaurants for patio dining. Today it holds a series of outdoor rooms.
Interior designer:
Kevin O'Shea Designs, Provincetown, MA, and New York, NY;
kevinosheadesigns.com

Contribute to This Story Below