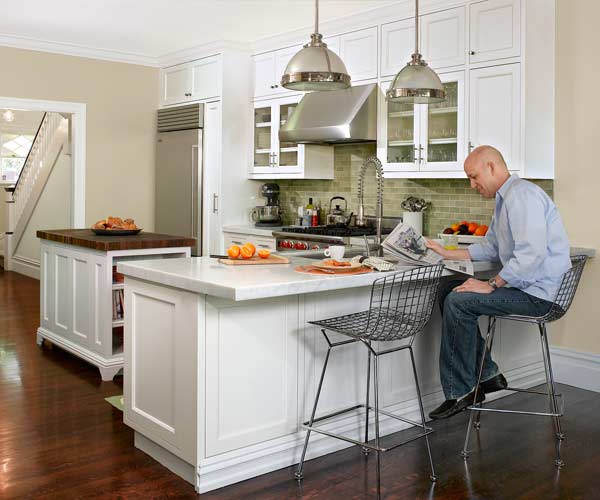 »
After: A Few More Feet
Eliminating a door swing can open the way to a much smarter kitchen. Witness Kelly McGinnis and Don Santel's Victorian-era home, in San Francisco, where the boxy cook space needed more function as well as guest-worthy style. Relocating the basement door elsewhere in the house, centering the foyer passageway, and grabbing about 2 feet from the dining room allowed architect Andre Rothblatt to create separate zones for cooking, cleaning up, and—Don's pet passion—fussing with the espresso machine.
Shown:
In the upgraded and streamlined room, homeowner Don Santel pulls 
up to the extra-long, marble-topped breakfast bar.
Architect:
Andre Rothblatt Architecture
, San Francisco, CA
Interior designer:
Amanda Marmer, San Francisco, CA; 415-309-8429
General contractor:
V & Co. Fine Builders
, San Francisco, CA
Stools:
Design Within Reach
Contribute to This Story Below