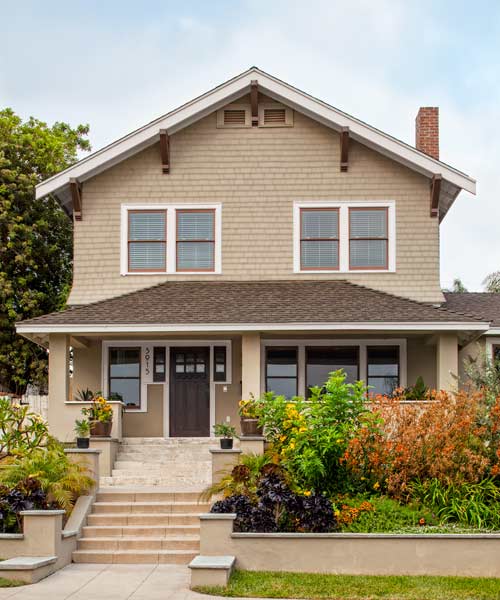 »
A Seasoned Remodeler
For serial remodelers, the "next one" always holds the promise of being the "best one"—a chance to learn from past mistakes, improve DIY techniques, and reap the satisfaction of a glorious end result. For Aaron Cover, a Web designer who has renovated seven houses in 13 years, the redo of this 1916 Craftsman was definitely his biggest undertaking to date. And deciding to do all the cabinetry himself nearly did him in.

It seemed like a good idea at the time. With four Dallas house renovations and two San Diego, California, redos under his belt, he set his sights on the two-story stucco-and-shingle Craftsman with its compelling location—directly across the street from a golf course, overlooking Balboa Park and, in the distance, the San Diego harbor. The house was a hard-luck fixer-upper: Previous owners had chopped up the layout in order to rent rooms to college students.

Shown: The 1916 Craftsman's facade has its original cedar shingles, which had been preserved under aluminum siding, on the upper story. The stucco covering the first floor needed repair; the street-level walls are new.

Contribute to This Story Below