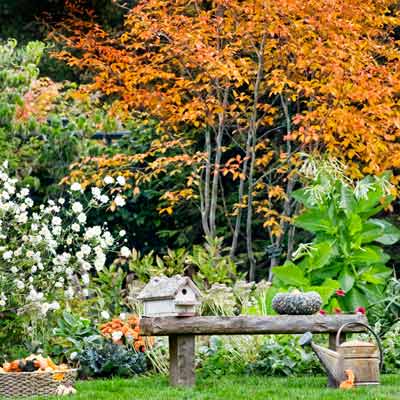 »
Apple Orchard Dream
When the time came for Robin Coleburn to design her garden rooms, the apple trees that surround them set the pace. The orchard not only gave the connected outdoor spaces their grid but also influenced their bloom schedule: While most gardens hit their stride in spring and early summer, then limp along into fall, Robin's follows a different rhythm. Autumn has always been a big moment in her landscape. And over the years she has found additional creative ways to make the growing season go out with a bang rather than a whimper.

Robin is a seasoned gardener, but originally she came to northern Vermont to farm. Twenty years ago, she decided to take on an apple orchard. She was no stranger to the Chittenden County region—she had spent her childhood summers at her family's camp down the road from what was then Golden Apple Orchard. So when the business came up for sale, she plunked down her money, pulled on some overalls, and went straight into getting ready for the next autumn's pick-your-own crowds.

Shown: In autumn, the white garden in front of Robin Coleburn's art studio is punctuated by sprays of white Anemone 'Honorine Jobert,' the oboe-like blossoms of Nicotiana sylvestris, and Sedum 'Frosty Morn.' The bronze leaves of the stewartia add a fiery note.

Contribute to This Story Below