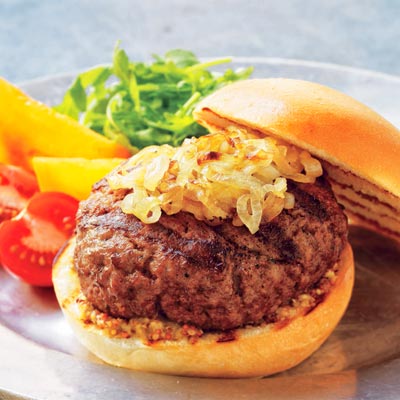 «
»
Our Favorite Burger Recipe
Brie-Stuffed Burgers with Caramelized Onions
Serves:
Four 

Prep Time:
30 minutes
Caramelized Onions
1 tablespoon unsalted butter
2 cups yellow onions, very thinly sliced
½
teaspoon sugar
1 pinch salt
Brie-Stuffed Burgers
1
½
pounds ground chuck, 80 percent lean

 3 tablespoons bread crumbs
3 tablespoons beef broth
1 teaspoon kosher salt
½
teaspoon ground black pepper
2 ounces Brie (not the triple-cream variety)
4 round rolls
⅓
cup whole-grain mustard
Instructions1.
Melt butter in a skillet over medium-high heat. Add onions, sugar, and salt, and cook, stirring occasionally, until golden brown, 15 to 20 minutes. Let cool to room temperature.
2.
Preheat grill to high heat. In a bowl, gently mix burger ingredients, minus cheese, and shape into four patties.
3.
Trim rind off Brie, and scoop out enough burger meat to bury a
¼
inch-thick piece of cheese. Cover it with at least
⅓
inch of meat.
4.
Grill patties over direct high heat with lid closed, turning once, until desired doneness. During final minute or so of cooking, toast rolls over direct heat.
5.
Top burgers with onions and whole-grain mustard.
Adapted from
Weber's Way To Grill
.
Used with permission.

Contribute to This Story Below