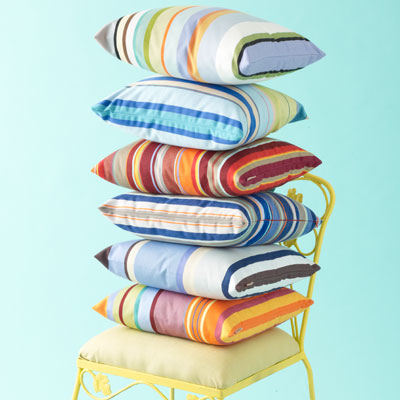 »
Can You Scrub It with Bleach?
Textile science has come a long way since cotton ruled the waves. And while soft, breathable cotton still has many fans, the latest man-made fabrics do a better job of standing up to sun and rain—and ketchup. The stiffest and sturdiest are destined for awnings and patio umbrellas, while those with more drape are best for pillows, cushions, and curtains. Along with the plasticky feel once associated with man-made fibers, a number of outdoor fabrics have shed their sober, functional color palette in favor of exuberant stripes, patterns, and brights. None are 100 percent sun-, water-, and kid-proof, but many come close. Before stitching up or purchasing pillows, cushions, or curtains, check out these five material differences.
Pillows made by
Les Toiles du Soleil
from custom Sunbrella fabric.

Contribute to This Story Below