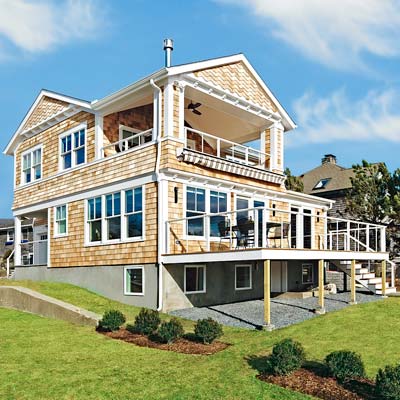 »
A Tight Lot and Budget
When Geoff Allen and Michelle Forcier bought their 1925 Cape Cod, in Barrington, Rhode Island, its waterfront location was by far its strongest selling point. The latest
TOH
TV project house had suffered from years of hodgepodge renovations and inadequate maintenance that had left the exterior shabby and the interior cramped and dreary. So the couple turned to architect Mary Dorsey Brewster and general contractor Andy Tiplady to figure out how to make it suitable for raising their young daughter.
In addition to tackling structural and mechanical upgrades and steep renovation challenges—boosting curb appeal, rejiggering floor plans, adding an extra bedroom and bath—the project team had to work within a tight lot and a no-bells-and-whistles budget. "Constraints helped us think creatively," says Tiplady. They came up with a skillful remodel that manages to maximize space and brings out the house's latent charms. Read on to learn how they pulled it off.
Shown:
A second-story addition, including a new covered porch, and a small bumpout on the southwest corner add about 400 square feet inside and improve the house's proportions dramatically. Double-hung windows also help unify the facade and suit the home's traditional style. The red-cedar shingle siding will weather to a handsome gray; shingles on the gables were cut in a wave pattern to add visual interest and to suggest the rippling bay across the street, says architect Mary Dorsey Brewster.
Take a video tour of the finished project.
Contribute to This Story Below
More in This Old House TV