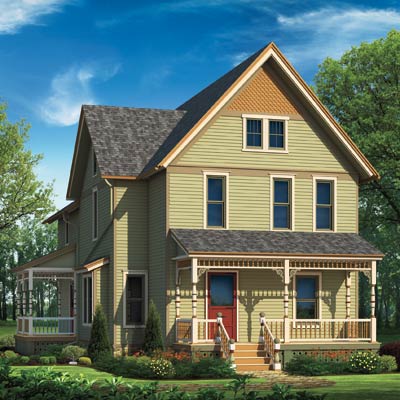 »
Historic Olive
"Are you sure you want to get in the middle of a domestic dispute?" teased Jerry Lucianovic when he asked us to help him and his wife, Sondra, choose colors for their 1895 farmhouse in upstate New York. The one thing they agree upon is that the all-white house could benefit from a colorful paint job. But which hues? "I like some of the historic, muted khakis and creams," says Jerry. "My wife is into more vibrant tones—she's talked about a deep red—but I'm afraid to take the leap."

To nudge them over the edge, we enlisted the help of architectural color consultant Bonnie Krims of Concord, Massachusetts. "This house has a lot of elements that lend themselves to different colors without it becoming flamboyant," she says. Playing peacekeeper, she produced three palettes: sober olive for him, at right, and, on the following page, fun red for her and a welcoming blue, too. What does the happy couple think? "Holy cow—they are all extraordinary!" says Jerry. "I love the first one, and Sondra loves the red as well as the blue...now what?" Nice try, Jerry, but we'll let you two work it out from here.

Shown: Dark trim colors are typical of Victorian-era paint schemes.
Contribute to This Story Below
More in Painting & Finishes