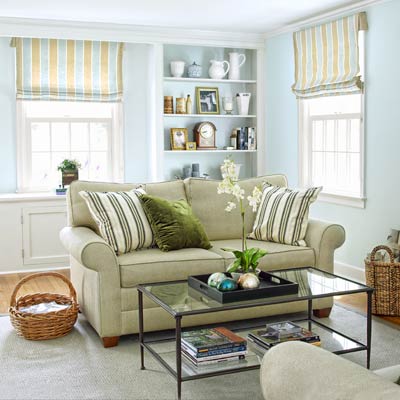 »
DIYer's Delight
Anyone can find a house that's already "done." Much harder is finding a house in just the right state of neediness—well built, well preserved, and aching for a redo. "The baths were original, the kitchen had its old metal cabinets—the front entry still had a nook for the telephone!" says Jim Zembruski, recalling the first time he and his wife, Sharyn, took a close look at their 1938 Colonial Revival.

Nothing terrible had been done to the house, last inhabited by a 99-year-old woman whose parents were its first owners. Actually, not much had been done at all, which meant that for all its charm and good proportions, the little house came with a big honey-do list. Perfect! "When we were looking to move, I wanted a project," says Jim.

Shown: As part of a measured whole-house makeover, the owners of this 1938 Colonial Revival hid the living room built-ins' quaint valances behind more tailored trim and installed new flat-panel doors and exposed hinges.

Contribute to This Story Below