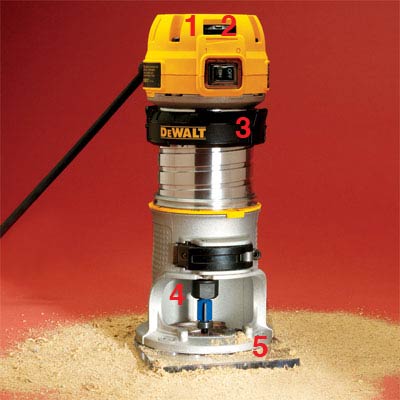 »
Super-Slim Trimmers
Why lug the work to your shop when you can take your router to the work? Whether you're fluting a fence post or rounding built-in shelves, these one-handed wood detailers make a big impression.

Variable-speed trim routers won't hog out as much material in one go as their big-boy cousins, but they'll handle just as many woods and nearly as many types of cuts. "In general, the larger the bit's diameter, the slower the router's speed should be, to reduce the chance of splintering and burning the wood." -Tom Silva, TOH general contractor

What to look for:
1. A flat top to stand up the router when you're changing bits.
2. Accessible knobs to adjust rpm.
3. Easy-to-use depth controls.
4. A base design with a wide opening to let you see the bit.
5. A choice of interchangeable base plates, such as this clear acrylic one that improves bit visibility.

Contribute to This Story Below