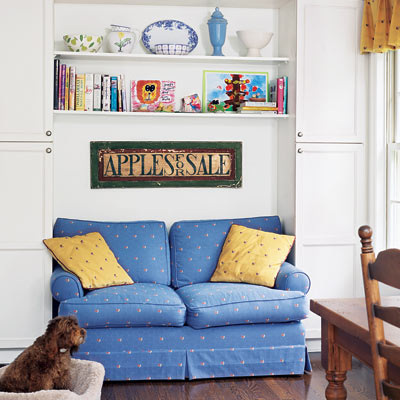 »
A Special Place in a Small Space
Anything worth owning is worth a place of honor, be it a painting, novel, clutch of vases, or pair of shoes. Yet in most homes, possessions tend to gather on desks, counters, and closet floors, waiting forever for a spot of their own.

Which helps explain why the home of Ellis and Seth Lesser—shared with four school-age girls, one schnoodle, and all their stuff—seems like a series of mini miracles.

"Games go in one cabinet," says Ellis, consulting a mental map of the built-ins framing a loveseat in her kitchen's eating area. "Plastic cups and plates for the kids go in a cabinet at one end of the island, where they can reach them. Pots and pans are in cabinets with pullouts. "Even the space over the loveseat has been colonized, with open shelves devoted to collectibles and the kids' artwork. "It makes me crazy," Ellis adds, "not to have places to put things."

Shown: Cabinets bridged by a soffit and open shelves create an alcove for the kitchen loveseat, so traffic flows around it. The tall unit on the right stows board games.

Contribute to This Story Below