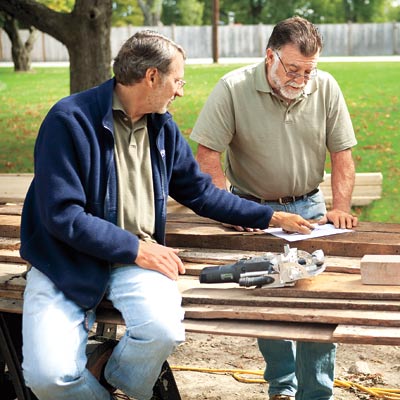 »
Salvaging Pieces of the Past
Joe and Becky Titlow are die-hard old-house devotees—thus their decision to buy a charming-but-needs-work Georgian built nearly 300 years ago. So when it came time to remodel it, as part of the TOH TV Bedford house project, they had a not-so-small request. "We asked the team to reuse as many original building materials as possible," says Becky.

Fortunately, this directive suited TOH general contractor Tom Silva just fine. "I'm Yankee and I'm cheap," jokes Tom. "If used parts are in good shape, I'd rather recycle them than buy new." So, after knocking out walls and tearing up floors, the TOH team was left with centuries-old wood and brick that might have been destined for the Dumpster at many job sites. Instead, they've been picking through the pile, spotting pieces with potential, then transforming these and other old house parts into finishes, details, and furnishings. These salvage projects will make even brand-new areas look perfectly at home next to existing rooms, and will also keep intact the house's historic character—the very thing the Titlows fell in love with. Read on to see what's in the works.

Shown: TOH master carpenter Norm Abram and furniture maker Stephen Staples review a trestle table design for the kitchen, which Staples hopes to build with reclaimed lumber from the house.
Contribute to This Story Below