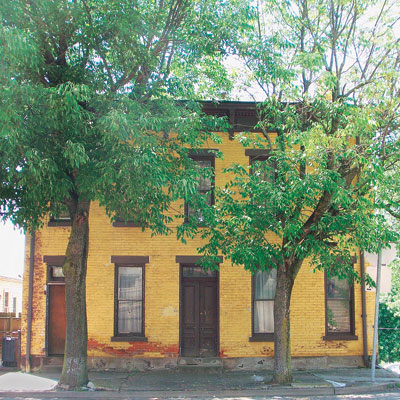 »
A Brick Federal with River Views
Published September 2011
Price: $38,000
Location: Wheeling, W.Va.
Contact: Laura Kuhns, 304-368-1555

It may come as some surprise, but Wheeling was once one of the wealthiest cities per capita in the United States. A hotbed of iron, textile, and cigar manufacturing, the city spent much of the 19th century fortifying wealthy businessmen, who built hundreds of handsome houses in the Federal, Greek Revival, and Queen Anne styles. One of those houses was this sturdy 1830s brick Federal, owned by a prosperous meat-packer named George Cotts. Cotts and his wife, Agnes, lived here during Wheeling's heyday, raising seven kids. After more than a century of single-owner occupancy, the house was carved into small rental units. It has been empty for the past several years.

Shown: The 4,200-square-foot house was built with two separate entrances. It's believed the former owner, George Cotts, used the address on the left, with its separate entry, as an office. The exterior brickwork was recently repointed but needs stripping or repainting.

Contribute to This Story Below