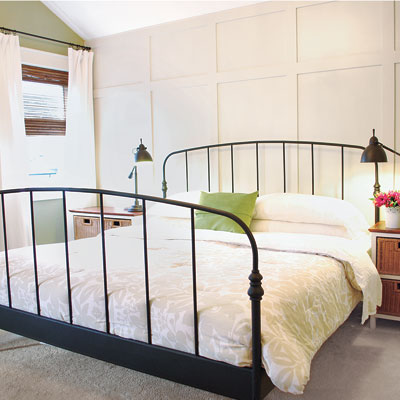 »
A Masterful Bedroom Upgrade
Who:
Ashli and Lee Malinek
Where:
Cloverdale, British Columbia, Canada
What:
Faux paneling crafted from stock trim adds character to a bland master bedroom
When it comes to giving a house architectural detail, the bedrooms too often get passed over in favor of the public gathering spaces. That was the case in Ashli and Lee Malinek's builder spec house in Cloverdale, British Columbia, Canada. While the couple loved the Arts and Crafts–style wainscot in their front entry and downstairs study, the second floor, and their master bedroom in particular, lacked any similar flourish. So after spotting
½
×4 MDF trim for a song at the home center, the couple decided to tackle a DIY version of the downstairs paneling for the wall behind their bed. Lee took measurements, made sketches, and mocked up a few configurations on the wall before they settled on the five-panel design shown here.

Contribute to This Story Below